Russia 2018
Conjuring up work from Russia's World Cup will be more of a challenge - but not impossible. To start with, although Russia already has some of what it needs to host the event there is still a huge amount to do. Some 13 stadiums are to be built, while three more will be renovated, adding up to $9.6bn (£6.1bn) of work. Meanwhile, plans to improve transport between the 13 host cities will cost about $50bn. This will include 7,711km of roads and 2,024km of rail track - which is expected to cost about $35bn - as well a new airport in Moscow.
Now for the tricky part. Rumours of corruption - in some cases leading to UK construction firms exiting the market - have dogged preparations for the 2014 Winter Olympics in the Russian city of Sochi. These culminated in reports that a crime boss known as "The Carp", recently murdered in the Russian city, was linked to gangs that had been seeking a cut of Olympic projects. One construction consultant working for a well known British firm in Russia says: "Paying bribes is still common practice here, especially for contractors. We avoid it but then we are not particularly big here, and that's probably why. Foreign players coming into this market really need to think about their policies."
It's certainly worth avoiding paying backhanders now that the new UK Bribery Act means you'll be prosecuted under British law for corrupt activities abroad. The source recommends offering a niche service that clients will not be able to get from your competitors. "This may work for UK firms seeking World Cup-related work in Russia, for example if they specialise in iconic stadiums."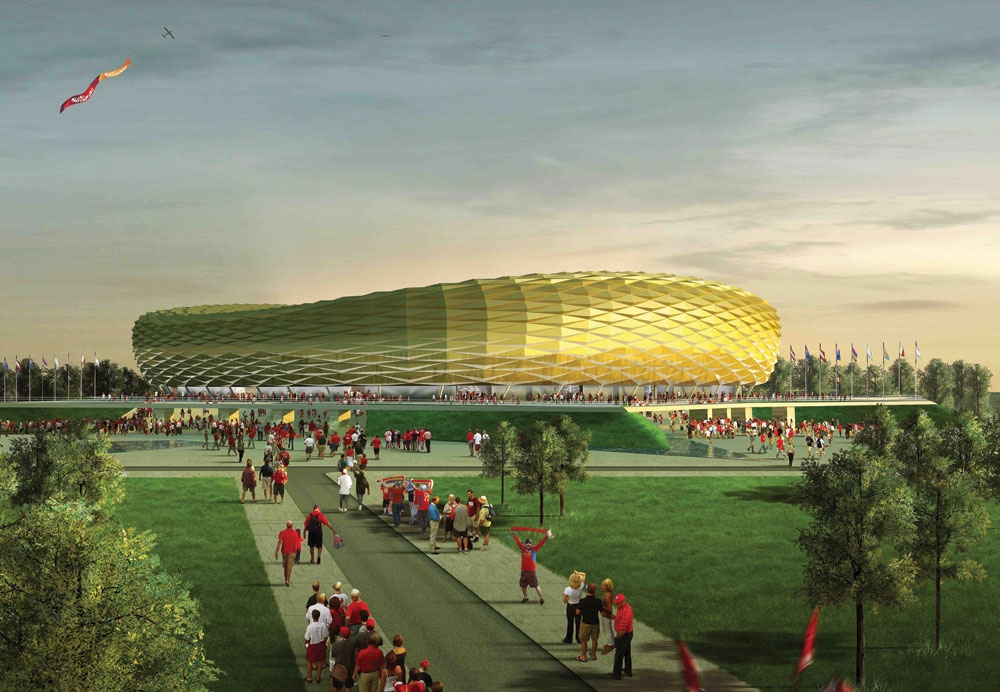 Kaliningrad Stadium Kaliningrad, Russia Capacity 45,015
The unique challenges posed by Russia's harsh climate means engineering expertise will be needed too. Mott MacDonald's Barker says: "You get heavy snow in Russia, and roofs can collapse under the weight of snow - as we saw in December with the Metrodome stadium in Minnesota. Severe ice can also break the cables often used in modern stadium designs. In other areas, like Ekaterinberg and Rostov, you've got seismic problems, while high winds are another danger that must be accounted for. Cost consultants are not traditionally used in Russia, however, so there are unlikely to be opportunities for QSs."
If you do fancy a slice of the work associated with the Russian World Cup, again the procurement approach has yet to be confirmed but Burkhard Miehe, an associate at Arup, Russia, says: "Contracts tend to be bespoke and design is done in three phases". The stadiums are expected to take the standard three years to design and build. But Barker says that with Fifa's requirement for them to be tested six to nine months before the main event, work on the venues - beginning with masterplanning - will need to start next year, so now is the time to get involved.
Admin





Posts

: 18


Points

: 52


Reputation

: 0


Join date

: 2010-05-21




---
Permissions in this forum:
You
cannot
reply to topics in this forum